MEMBER OF


AAA
Member
of Czech Assotiation
of Antique Dealers
and member
of CINOA


110. AUCTION brno

SUNDAY 1. 8. 2021

The auction starts at 11 am

The auction will be live, but personal attendance will likely be restricted due to COVID-19

online

Browsing and written bids at LIVE|BID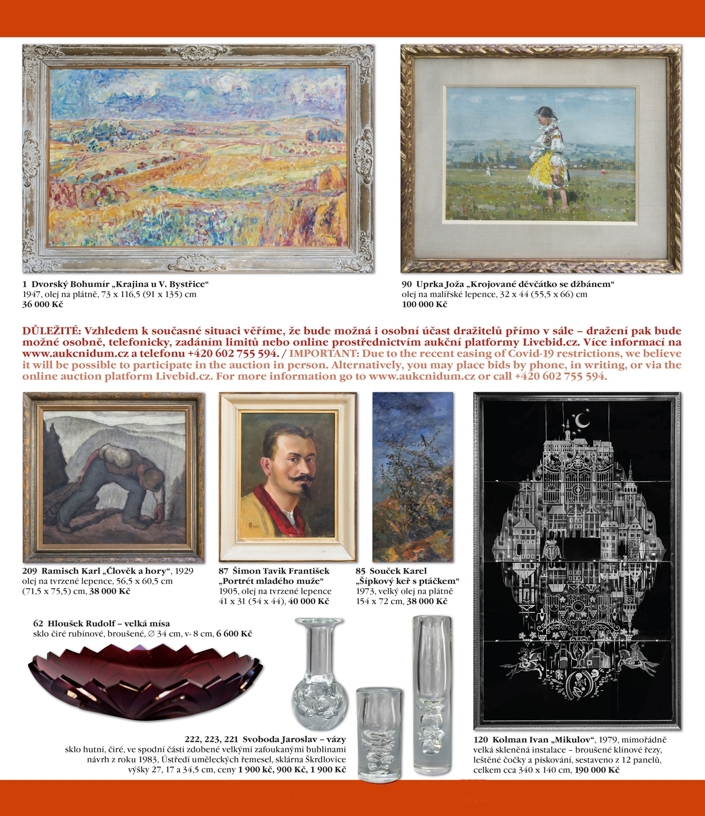 101

Karel Wünsch

Vase 18 x 17 cm

1976 proposal

Škrdlovice glassworks

Starting price 1 200 CZK

102
Vladislav Urban
Vase height 33 cm
90s of the 20th century
Start. price 4 000 CZK

103
Vladislav Urban

Torso Nude, 19 cm

2nd half of the 20th cent.
Škrdlovice and Rosice
Starting price 7 000 CZK

104
Vízner František
Vase height 18 cm

Škrdlovice

1973 proposal
Starting price 3 000 CZK
106
Jiří Šuhájek

Weight diameter 9,5 cm
Nový Bor
80s of the 20th century
Starting price 1 500 CZK

108
Vladislav Urban

Vase height 20 cm
Rosice

1969 proposal
Start. price 800 CZK

109
Vladislav Urban

Vase height 14 cm
Rosice

1968 proposal
Starting price 500 CZK

113

Paleček Ladislav
Vase height 22 cm
Škrdlovice

1981 proposal
Start. price 900 CZK
119

Rudolf Schrötter, blue glass, Rosice glassworks, 1955 proposal, height 15 cm
Jan Schmid, turquoise glass, Rosice glassworks, 1960 proposal, height 20 cm
Miloš Filip, violet glass, Nemšová glassworks, 1962 proposal, height 25 cm
Starting price for all 3 vases 1500 CZK

221, 222, 223 Jaroslav Svoboda
Metallurgical glass vases, Škrdlovice, 1983 proposals

221 Height 34,5 cm, diameter 8,5 cm, starting price 1 900 CZK
222 Height 27 cm, diameter of the upper edge 11.5 cm, in the widest part 14 cm, starting price 1 900 CZK
223 Height 17 cm, diameter 8,5 cm, starting price 900 CZK


224 Josef Aschenbrenner
Vase SUMO wrestler, glass, motif sandblasted and cut, 32 x 21 x 8 cm.

SUMO inscription at the bottom, signed ASCHENBRENNER 1995, engraved by Josef Aschenbrenner.
Starting price 14 000 CZK


Art engraver Josef Aschenbrenner (* 1935) worked in the Nový Bor glassworks, in collaboration with glass artists Ludvika Smrčková, Erika Hellerová and others. He still works sporadically.
190

A detailed image of Mikulov, symbolically capturing everything from the ancient history of the area to the historic town centre and chateau.

According to the author, a dark textile underlies the glass panels, accentuating the silky white matte of the cuts in the glass.

The frame has been replaced by the current owner.

It is one of the author's first big works meant for a building — the Hotel Morava in Pohořelice. The piece is still located at its original place in the Hotel Morava and the building is now owned privately. Viewing can be arranged individually.

Disassembly and transportation are left with the buyer. We've consulted the disassembly with the author, Ivan Kolman. After removing the frame, it should be possible to unscrew a set of metal brackets and remove the glass panels one by one, starting from the top.

This is a extraordinary offer of an exceptional piece by an author renown for his unique artistic style. The authors works have been displayed on prestigious exhibitions around the world — beggining with the Montreal Expo in 1967. He is represented in European, Asian and American collections. In 1989 he created the oficial gift for pope John Paul II. on the occasion of the canonization of Agnes of Bohemia.

190 Kolman Ivan (*1944)
Large Glass Installation "MIKULOV"

Signed I. KOLMAN, dated 1979. The piece is made up of 12 glass panels secured to a massive wooden plank, the design is created by wedge cuts, ground lenses and sandblasting.
12 panels 80 x 60 cm, with frame cca 340 x 200 cm
Starting price 190 000 CZK
| | | |
| --- | --- | --- |
| | It is quite possible that when re-visiting our website, some of the images and/or text in the catalogue might not be updated even though they are available. Most computers remember the last page view and do not lose time by reading the website again. To avoid this please try to Refresh the page view. | |
| | | |
| | TOP | |
| | | |
| | | |
Auction venue

The auction will be live, but personal attendance will likely be restricted due to COVID-19. However, we hope and believe that this setback will not put you off and that the wide range of items presented will interest you enough to try a new form of bidding.

The catalogue will be simultaneously displayed at www.livebid.cz/auction/AAA_108Brno.


Bidding will be made possible:

by telephone—telephone bids can be placed on all lots, the only restriction is the number of our phone operators, to arrange the telephone bidding contact us at info@aukcnidum.cz or call +420 602 755 594 (deadline is 9 AM, Sunday 6th December 2020),

by placing written bids with us directly—by telephone, email or personally at any of our shops (provided the COVID-19 restrictions allow the shops to open), same contact details as above,

live online via LiveBid.cz platform— it is necessary to register with LiveBid before this option can be used,

by placing written bids online via LiveBid.cz—for the entire duration of the pre-auction viewing, before 10AM on the day of the auction (open already), registration is mandatory in this case, too,

by attending personally—if prevailing measures taken be the Czech government allow. Information about this option will likely only be definitive on the Friday preceding the auction.

Even our regular customers, should they decide to take part online, have to first register with LIVE|BID and wait for confirmation. We have to point out that there is a delay between submitting the registration form and being granted access to written limits and live bidding, each registration must first be confirmed by our company.

For the option of private viewing or reservation of a given time, please call
+420 602 755 594.
The catalogue is in Czech only but we would be more than happy to provide translation of individual lots.

Reserves can be placed by e-mail at info@auctionhouse.cz, we always confirm the receipt of reserves,

should you not receive this acknowledgment please contact us at +420 602 755 594,

alternatively you can also place your reserves at this number.
We are happy to provide more information on request.
Please contact us at our central e-mail address info@aukcnidum.cz
or at any of our showrooms below
We are looking forward to seeing you at our events
110

BRNO

1.8.2021
catalogue |

LEAFLET

|

LIVE|BID

109

BRNO

2.5.2021
catalogue |

LEAFLET

|

LIVE|BID

132 OSTRAVA

20.12.2020
cATALOgue | LIVE|BID

108 BRNO

6.12.2020

1 eAuction

1.10.2020

107 BRNO

23.7.2020

131 OSTRAVA

28.6.2020
cATALOgue | LEAFLET

|

LIVE|BID

BRNO

25. June 2020

PARIS, CZECH ARTISTS AND JAN ZRZAVÝ,

lectured by Prof. PhDr. Ivo Barteček, CSc

BRNO

15. 6.-15. 7. 2020

Jan Zrzavý

Uknown Works – selling exhibition / RENEWED

130 OSTRAVA

22.12.2019
cATALOgue LEAFLET

106

BRNO

20.10.2019

catalogue

LEAFLET

105 BRNO

21.7.2019

129 OSTRAVA

2.6.2019

104 BRNO

17.3.2019

128 OSTRAVA

16.12.2018

Independent Auction PORTRAIT

see LEAFLET No 100

Independent Auction RELIEF see LEAFLET No 200

103 BRNO

2.12.2018

127 OSTRAVA

14.10.2018

102 BRNO

29.7.2018

126 OSTRAVA

3.6.2018

101 BRNO

4.3.2018

4.3.2018

An Independent Auction ANTONÍN HUDEČEK

125 OSTRAVA

17.12.2017

100 BRNO

22.10.2017
---
Setting up bidding by proxy

For those customers not able to attend the auction in person, bids can be made by proxy (personally, phone, fax, e-mail), level of deposit is arranged on individual basis

We accept proxys arranged upfront

it is also possible to bid on the phone (prior arrangement is needed)

New

Placing bids in advance via LIVE|BID.

Bidding in real-time via LIVE|BID.

Independent Auctions

in compliance with law 26/2000 lots with calling price higher than CZK 1.000.000 are auctioned in so called independent auctions

Acceptance of goods

we accept goods for auctions in all our showrooms

Lots for Auctions are accepted in all our shops and included in the auction according to the seller's contract

Notes

all prices are in CZK

all dimensions given in the catalogue are in centimetres unless otherwise stated

dimensions for paintings are given in the following format

stands for height X stands for width

stands for height of the frame X stands for width of the frame

---
COMPANY's SHOPS AAA - Antikvity Art Auction
Member of Czech Assotiation of Antique Dealers and CINOA
| | | | | |
| --- | --- | --- | --- | --- |
| BRNO | Antiques Art Auctions | Jilova 2, 639 00 Brno | tel | +420 543 213 482 |
| | | info@aukcnidum.cz | | +420 602 755 594 |
| OSTRAVA | Starozitnosti | Msgre Šrámka 5, 702 00 Ostrava | tel: | +420 596 127 199 |
| | | ostrava@aukcnidum.cz | | +420 602 755 594 |
| PRAHA | Starozitnosti | Vinohradska 38, Praha 2 | tel | +420 224 322 418 |
| | | | | +420 224 323 218 |
| | | | | |
Ostrava - Our premises

which were until September 2019 at Českobratrská 19, Ostrava

were moving to a new location: Msgre (Monsignor) Šrámka 1826/5 (Msgre Šrámek´s Square), Moravská Ostrava.

In the middle of the Msgre Šrámek´s Square there is The Cathedral of the Holy Saviour of Ostrava

The well-known Jiří Myron Theatre is also in the vicinity of our new premises.
We are happy to provide more information on request.
Please contact us at our central e-mail address or at any of our showrooms
We are looking forward to seeing you at our events
31.07.2021